Be Happy Be You – a teenage guide to happiness
Be Happy Be You is our brand new happiness boosting book for teens published by Harper Collins
We are so excited to tell you about Be Happy Be You – it has 40 topics which range from assertiveness to anger, body confidence to reducing your carbon footprint, healthy relationships, mindful eating and so much more.
After the success of our first book Create Your Own Happy for 7-12 years olds we were asked many times to produce a similar book for teens and we are happy to say – here it is!
How does Be Happy Be You work?
Be Happy Be You begins with a look at how to make yourself happier, moves onto looking at how to have happier relationships and the last section is all about making the world happier. Each topic is underpinned by science and contains a fun, creative activity to help kids put into practice what they have learned. It is for teens 13-19 and has nuggets in that adults could do with reading too!
The tricky teen years
The teen years are a time of huge change and rapid development and they can feel bewildering.
Life is often tough and despite wanting to be a positive thinker and having a sunny and optimistic attitude, there will be times when teens may well feel defeated and despairing.
This is real life after all and stuff happens. We can't pretend these hard times away.
The aim of our book is to help teens manage trickier times, acknowledge and express your feelings and develop a problem solving, can-do attitude that means the tough times don't keep them down for long.
In 2018 the NSPCC said that the number of referrals by schools in England seeking mental health treatment for pupils has risen by more than a third over the last three years.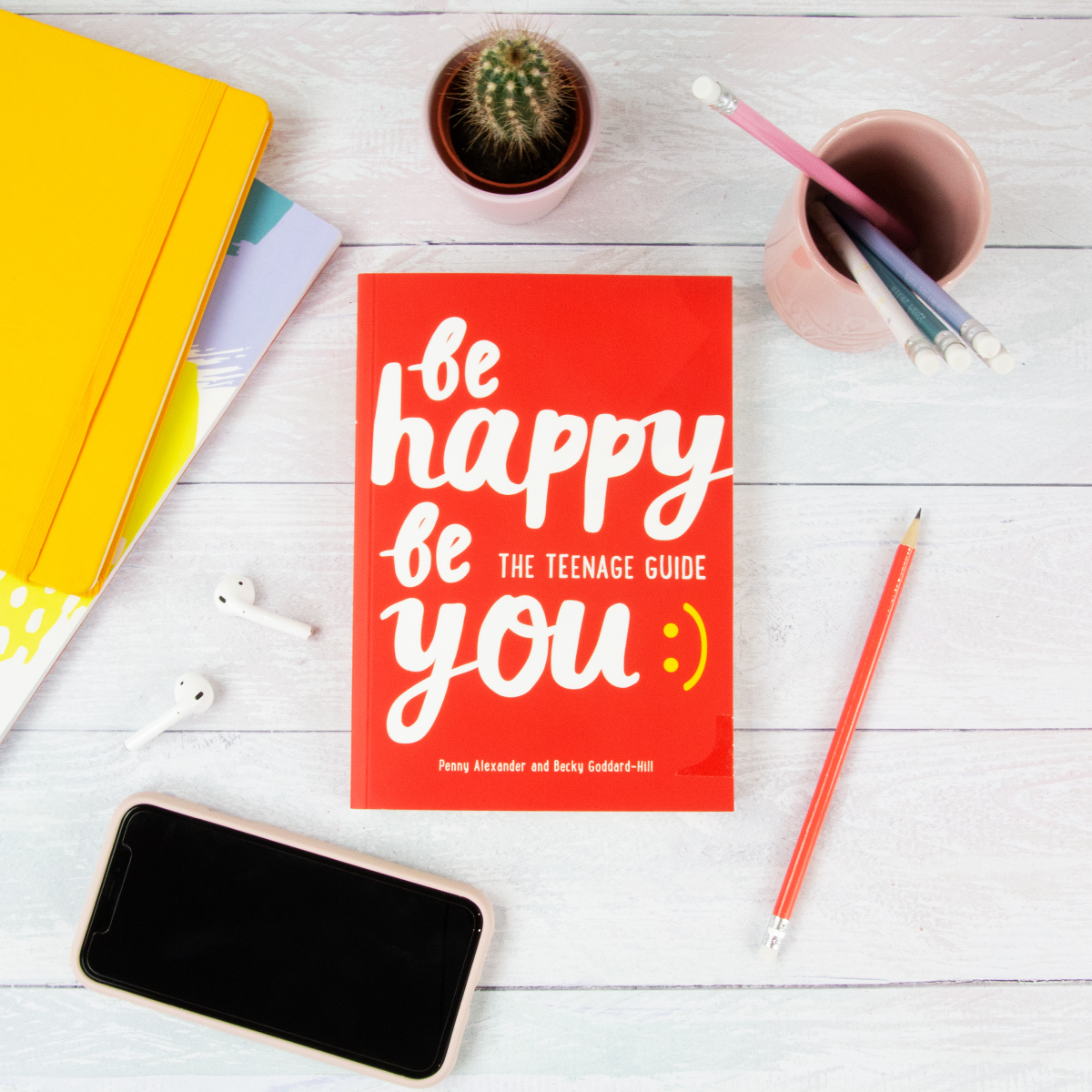 Why is there such an increase in mental health issues and teens?
The rise in referrals in lots of ways is considered to be a good thing. We know that around three-quarters of lifelong mental health problems start before the age of 24 – a greater willingness to address and discuss these problems and seek help can reduce the long term impact.
In many cases thought services like CAMHS are too stretched to meet the increased demand and there are long waits for support which cause many issues to deepen.
The Nuffield trust report noted six-fold increase in how many children and young people in England reported having a long-standing mental health condition in the last 20 years. The y particularly noted an increase in hospital admissions due to teenage girls self-harming, a rise in teenage suicides and more demand for university counselling services. The emotional wellbeing of our young people is a big and growing issue.
Contributing issues identified by the report are linked to greater school pressures and the effects of social media ( especially cyberbullying) They also noted that an increasing amount of children in the UK are also growing up in poverty and there have been many cuts to youth services which could offer support.
So what can and should be done?
We obviously need to campaign for better services and awareness and work with schools to reduce pressure. We need to educate our young people on media literacy too.
But we also need to empower teens to take control of their own wellbeing by learning techniques that will help them be assertive, healthy, positive and able to problem-solve.
This is our aim with Be Happy Be You.
Knowing how to be happy and what makes you happy is really important and being able to self-care is vital to wellbeing.
We hope it all helps x